11 September 2010
is it so freaking fun to get people around you worried?
or is it that people around you are just simply strangers and u don have to care about?
or tell me that im the only stranger in your world which caused u to feel that theres no need for me to be informed personally by you?
i seriously don know why ppl is making me worried when they know they're seriously freaking important in my life.
come on la what you all want from me? kill me is it? just do it la.
i know that i care about you ... at 00:27

09 September 2010
last paper of ut to go! science sucks like crap and i've made up my mind that physics is not suitable for me-.-

ahwells been through quite a lot recently.mostly bad than good but im glad that at least theres someone there waiting at e other end trying to support me.
thoughts running wild last night and it kept me thinking and thinking.
maybe i should stick with my new decision....
i know that i care about you ... at 13:39

01 September 2010
UT3 is on coming monday and its already wednesday nowwwwww omg:(
i got my freaking knee injured durg tchers day game so freaking irritating im like walking like a crippled now. feels like taking a hammer and knock my knee!

oh yea i feel like im back to my healthy eating lifestyle because i have to eat soft food again!! my teeth hurts like crap but im happy because of some reason.. i took 1 hour++ to finish a plate of rice-.- kns.
training tmrrrr but i cant attend cause of my lousy knee :(

im having surgery in 2 weeks time and it clashes on my msia bball trip with rp! come on tell me what should i do now? :(

lastly, im glad to find you(:
i know that i care about you ... at 18:23

01 August 2010
back to blogggg!
youth cup just ended, and womens open begains. time flies, tonight gonna be the last game in opens.
overall had lots of fun with this team(:
fought hard together as a team and win/ lose together as one <3

anw its time for me to go gymmmmmm tmr! omg super duper long nv go alr :(

oh yea. i'll like to thanks everyone for the bday wish/card/song/text/surprise
super duper happy on that day as well as before and after.
kam/pearl/gum was the first to celebrate for me follow by candy,my class and team chr :D
and yesterday with rp team(:
then go on to the buddies with zb and nicole!(:
and lastly last night with teammiessss at sbc!
was really an unexpected one this year despite all the busy schedule on going and everyone still able to make it.
seriously was damn surprised and touched about it!

holiday is coming soon in weeks time im awaiting for its arrival and im gna start work alr!(aint gna be jobless for 10 days~!)
i wanna work IT show go any nice lobang ppl? :D

hmmm i seriously don know what to type anymore
last but not least,
its the very first time ur words got me thinking........

i know that i care about you ... at 13:23

12 July 2010
alright im back again. this blog is dying( or i should say alr dead)
been so busy with my time recently im running out of breath to live.

one game after another, one training after another.
one lesson after another, one test after another.
oh man when is this gonna stop?
i don seem to care that much to things as i seemed to be, perhaps im just tired to give a damn about it anymore.

youth cup just end, im glad to have sucha awesome team like this. despite how tiring the training or match may be, no one gives up on themselves as well as each other. was quite a pity for the finals. but im sure we're gonna do better next year. jiayou qunyan(:
coming sun first match for opens. wow. after tt still got polite and ivp.
comeon im just having a baller freak life right nowwwwwwww.

alright i think i shall wake up and go back on track. i've been dreaming throughout this whole year and i think i should start to be clear minded and awake now( hope its not too late) . i don wanna fall again, i don wanna be deluded anymore. i just wanna make my life happy and doing things thats impt and what i want.

gtg. update in a month time(i guess?)
i know that i care about you ... at 11:05

19 June 2010
i did not expect that the next time i blog will be under this condition.
life been quite screwed up recently. school work has always been neutral.
basketball life. schedule tight till i don even have much time to relax, but i know the results will be worthwhile after all the trainings.
so far my team managed to win all the games. last game for 1st rd is today. gotta put in my best.

emotional wise is totally ruined. my last and only trust i've was being destroyed by your hands in split seconds. i don even know if i am able to forgive you and forget about this. it hurts like crap. every moment when i opened my eyes after sleep, i'll start tearing/crying till i went back sleep. i wonder how long this pain gonna last cause i dont want it to stay in my heart anymore. this feeling is killing me and draining all my energy out from my body. i feel numb right now but my tears still kept flowing when im typing now. amazing isnt it?
i rather my heart dies forever. everytime u step close to me i'll begain to have this fear of you bringing me up and drop me. and everytime i will be softhearted too. i hate this me seriously. fml
i know that i care about you ... at 09:09

26 April 2010
this time round i rly need someone to talk to :/




back to blog cause some naggy one ask me to.
oppsssss :X aye don worry i still DOTE you. hahahah
ahwells. school starts, my 5 months holiday gone. sch orientation was super fun but i missed e last one. my classmates all damn funny. everyday poser annoying orange(watch youtube if u don uds what im talking abt)
challenge each other during presentation and thats our way of showing love to each other. hahah.
they're steady till they create a grp on facebook O.o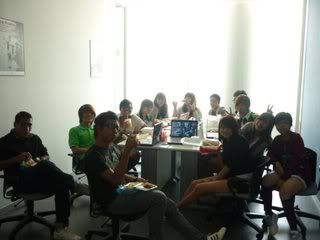 (my class!not all inside but we everyday spent out 2hr++ break chiong presentation-.-)
anws back to e one i concern most which is my grades. so far so good 2 A 2 B no lesser than B :D hope i'll maintain this kinda grade for e whole sem! and OMG UTS COMING IN 2 WEEKS TIME.
oh and today my day is so freaking screweddd. sian ttm.
last week celebrated phoenix bday and ytd went to zf's chalet. feeling so lethargic and i cant seem to get enough sleep every single day!
zhengfang's one will upload soonnnnnnn.
i realised my daily schedule is so fully packed omg i scared i don have time for special people during special occasion. i am so sorryyy :/
okay guess i gotta go now haven do my RJ quiz and stuff arghh
i know that i care about you ... at 19:34

07 April 2010
the only anesthetic that makes me feel anything kills inside
i do not want to be afraid.
well this week so far so good except for the feeling unwell part :/ been havin headache and feeling giddy for quite some day. lucky its all over now if not i've no choice to take mc alr.
except for working part, i spent some time on my cute nephews and managed to bring em out. they rly made my day and make me smile thruout e whole day because of their cuteness.
oh i also watched boys match. its quite a pity but aye nvm theres alws a second chance(:
the remaining days reserve for boxin daddy. had dinner with her and chat few days ago. then today makan sushi with her(super guilty cos gna gain weight liao-.-), next outing will be dessert@ bugis. omg gna faint mannnn.haha but ahwells at least theres sth for me to chill and not to think that much. at least thats the oly good sign in my life right now.
anyways felt like burning singtel down cause i wanted to sign contract but im 4 months younger to sign. kns cnt calculate by year one meh-.-. maybe next week im able to sign so i'll be changing no. soon (: get from me if i din give you!
tmr gna have HEARTZ lesson @ ikea despite having offs. hoho im gna give my heart to em :D okay craps till here gna brush my teeth and slp. hopefully i wont use my facial wash to brush agn if not i rly can go die.
- boxin daddy(idk what to say except for saying thanks for every single thing.btw i don want boxin mummy.hahaha)
-xuewei(to you i know thanks is not what you want but what i can only say is still thanks for every single thing.i just wna see you happy yo! :D )
so don do things which will make me say u're a piece of crap to me.
i know that i care about you ... at 01:48

28 March 2010
have i ever told you that waking up is a nightmare?
i wanted to blog ytd but i was too lazy to do so. decided to blog today cause i really miss us.
it was 27march ytd. one year ago, we set off to nepal as a team of 10 girls, having a common goal which is to reach the EBC for the 18 days trip.
i miss the trip,which is filled with excitement,joy,laughter,pain,sadness and even tears.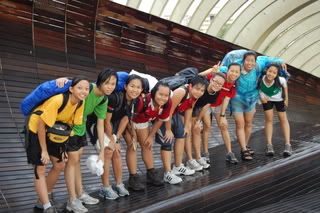 not forgetting, i also miss another team which im sure that i wont forget about them in this whole lifetime.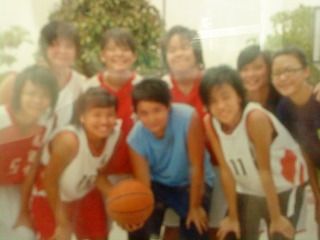 (super blur cause i took from notice board)
wanted to upload more pic of e team but im sure everyone will kill me cause got super glam& our LONG HAIR photos. hahah
alright back to blog. i want to buy new phone next monthhhhhh.cant wait cant wait.
talking abt phone. i did real stupid stuffs in mac last night with hy&jx. accidently threw my phone in mac then it flew quite high and landed aft 2 secs into 3 separate pieces(battery,cover&phone) everyone looking at us and its real stupid.played a game and i did 3 forfeits(super suay),called some guys and said stupid things-.-
alright i gotta back to reality, byeeeee
i cant hold on any longer
i know that i care about you ... at 16:05

22 March 2010
lost all the trust towards everyone.

u'll never know how terrible it feels.




alright ending of last week and today was awesomeeee. sunday went blading and i fell like ard 10times or i think more than that? hahah well at least i learn how to make myself move forward LOL. shop ard jp with vivienliew and wangweizhen. spendin quite sometime in ntuc buying stupid stuffs.
today went universal studio. high like mad i can say. its all worth it man. missed one ride due to technical probs kns waited for 2 hrs for that mans. i swear im gg to go there agn soon when im free! pics will be in fb soon by this week.(: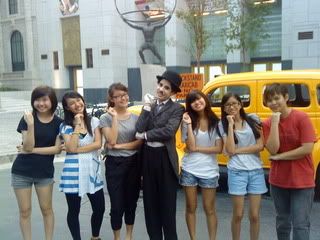 i need my voice back aft one whole day of screaming today :/
ohhhh no forgetting to say that my boss is so sweet to buy us sweet strawberries from oversea. one person had a bowl each!
dang okay back to reality,work tmrrrr. aint gna have off days for weeks ohmanohman.
workaholic life goes agn.
don ruin it when a chance is given to be nice.
i know that i care about you ... at 22:31